Who qualifies for Medicare? Are you missing out on extra savings?
On This Page
Who's eligible for Medicare?
Our Medicare Advantage plans are available to anyone who qualifies for Original Medicare. Most people are eligible to receive Medicare benefits if they meet one of the following requirements:
Are at least 65 years old
Are under 65 years old and living with a disability
Are any age with End-Stage Renal Disease (permanent kidney failure requiring dialysis or a transplant, sometimes called ESRD)
To be eligible for Medicare, you must also be a U.S. citizen or legal resident. Legal residents must have lived in the U.S. for at least five years before applying for Medicare.
For more on Medicare eligibility, visit https://www.cms.gov/medicare/eligibility-and-enrollment/origmedicarepartabeligenrol.
For information on when you can enroll in Medicare, visit our Enrollment page.
What is a Dual Plan?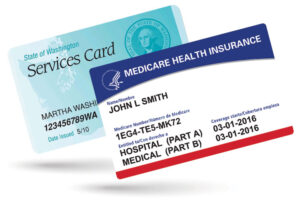 If you also qualify for Apple Health (Medicaid) in the state of Washington, you may be eligible for our Medicare Advantage Dual Plan. With a Dual plan, you get low or no-cost premiums, expanded benefits, and more coverage.
Our Medicare experts are happy to help you determine if you qualify for our Dual Plan or another reduced-premium option.
Interested in exploring the extra benefits a CHPW Dual plan can get you? Visit our Dual Plan page for benefits and our service area.
Other ways to save on Medicare coverage
Even if your life situation doesn't qualify for a Dual Plan, there may be other money-saving options to help with the cost of Medicare coverage.
The Extra Help (also known as Low-Income Subsidy) program helps pay for your Medicare prescription drugs.
For more information about subsidy programs, visit our Extra Help page.
Ready to get a Medicare Advantage plan?
It's easy to enroll in one of our plans by phone, online, or by mail. For enrollment details and Medicare enrollment periods visit our Enrollment page.
Have questions or need more information about what plans you qualify for? Our Medicare specialists are here to help.
Call us
We're here for you 7 days a week, from 8 a.m. to 8 p.m.
Schedule a call or meeting
We can call you, meet at a local clinic near you, or arrange a video chat to review plans and your options.
Find a local Medicare specialist
or
Request Appointment
‡Community Health Plan of Washington is not affiliated or endorsed by CMS, HHS, or the Federal Government.